Product Description
Manufacturer: Pro LED
Part Number: 250YC
Voltage: 12-volts DC
Light Source: LED
No. of LEDs: 13
Lens Color: Clear
LED Color: Yellow
Lens Pattern: Circles
Lens Material: Polycarbonate
Housing Material: Polycarbonate
Plug Type: Standard 2-Pin
Mount Type: Grommet or twist lock (Cam-On)
Cross References: 250YC, 1050A, 1051A, 10202Y, G1033, VSL14Y1
A cross reference listing means that this item should be a suitable replacement for the part numbers listed. Please verify that the picture and item description match your needs.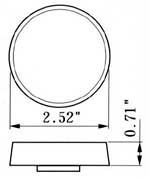 The Pro LED has a clear lens with amber LEDs. It fits in all standard grommets and mounts for 2-1/2″ round marker lights and uses the standard 2-pin wire connector.