Brake Chamer Catalog PDF : Xiamen Wabco Brake Chamer Catalog PDF Download
Air Brake Chambers Tech Info 
Video:How do air brake chambers works?
Service Brake Chambers
The service brake chamber is used when only the application of service brake air is required on an axle. There will be no emergency braking provided on this axle. You will find service brake chambers on steer axles, some rear axles, and old trailers that use a relay emergency valve to apply parking air pressure to the service chamber.
Spring Brake Piggybacks
The spring brake Piggyback is a replacement part for repair of a spring brake chamber. There is a heavy spring inside that applies the mechanical force needed for the parking and emergency brake functions. Service of the piggyback should never be attempted because the large spring inside can be compressed with a force up to 3,000 lbs. Severe injury or death can easily result should the spring be accidentally released.
All Type Single Room Air Chamber :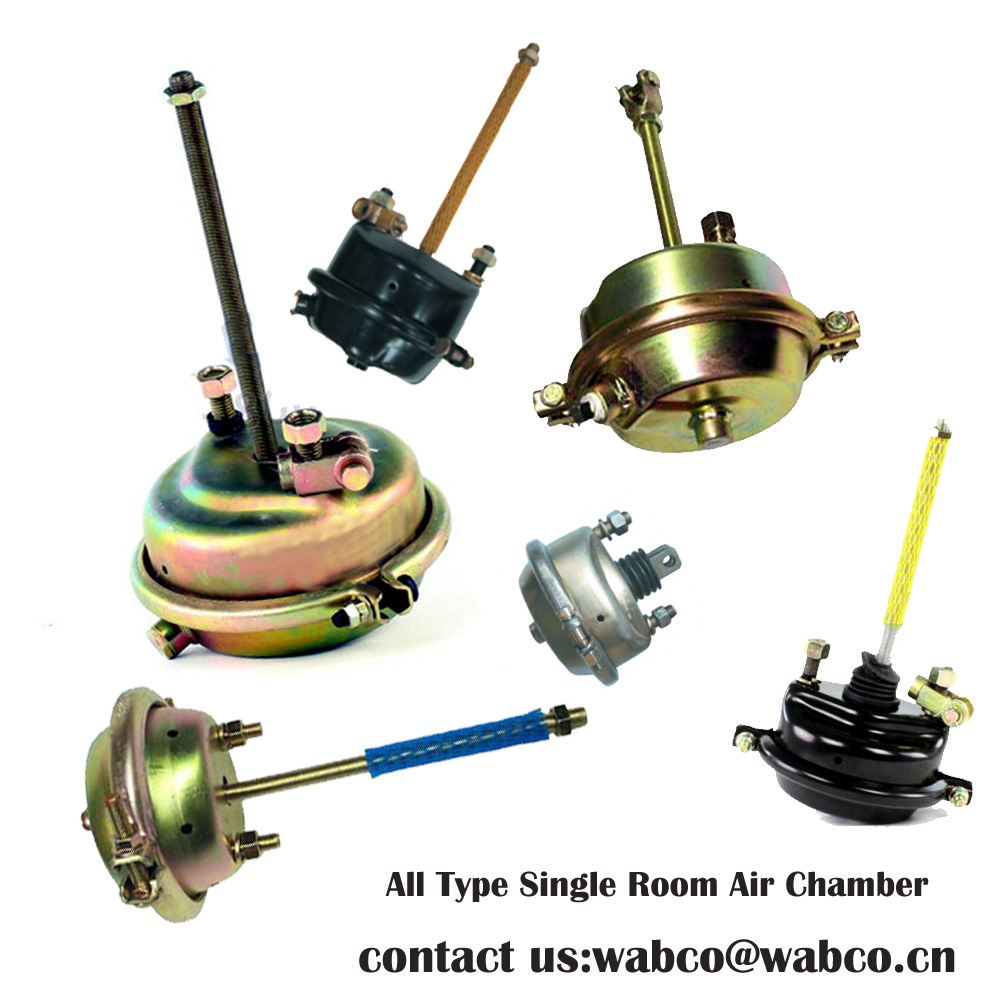 Spring Brake Assembly
The spring brake assembly consists of the service brake and parking/emergency brake. The service brake is the section at the clamp closest to the axle. The diaphragm, pushrod and return spring may be serviced by removing the clamp. The spring/emergency brake is everything from the first clamp to the end farthest from the axle. The spring brake must be completely replaced if it is faulty.
What is the purpose of air brakes?
An air brake or, more formally, a compressed air brake system, is a type of frictionbrake for vehicles in which compressed air pressing on a piston is used to apply the pressure to the brake pad needed to stop the vehicle.
We are supplying kinds of Air Brake Chamber Types with different size.
Types: Single Room Air Brake Chamber & Double Room Air Brake Chamber.
Double Room Air Brake Chamber includes DD & DP models.
Single Room Air Chamber with the main size: T09,T12,T16,T20,T24,T30
Double Room Air Chamber with the main size: T20/24,T24/24,T24/30,T30/30
Type 30 30 air chamber brake images: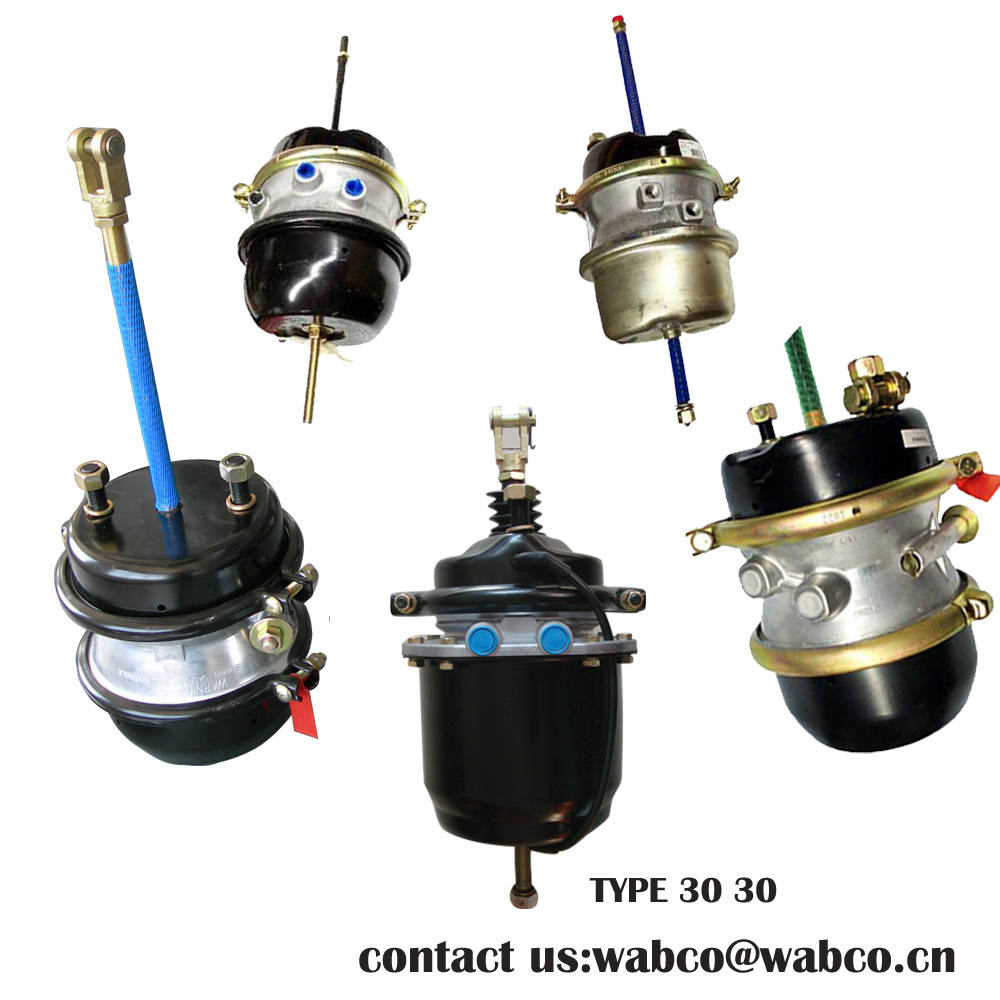 Our good quality Air Brake Chamber have been stably exporting to Europe, North American,South America, Asia, Africa, Middle east in the worldwide.
Production Process:
Pressing the model – Deburring –Surface Treatment –Lathe Finish –Drilling and Tapping –Assembling –Testing Gas Tightness –Packaging
Air brake Chamber Product:

Double Diaphragm Spring Brake Actuators for Air Disc and Drum Brakes
Features fully sealed parking chamber with internal breathing valve; coil clash-free design, and redundant sealing.The design of WABCO's Double Diaphragm Air Spring Brakes, based on more than 15 years of engineering experience, provides a compact solution for air disc brakes and S-cam brakes.The coil clash free power spring increases the actuator life and a variety of connection port locations enable customized solutions for different vehicle applications.
Type 24/24 Air Brake Chamber: images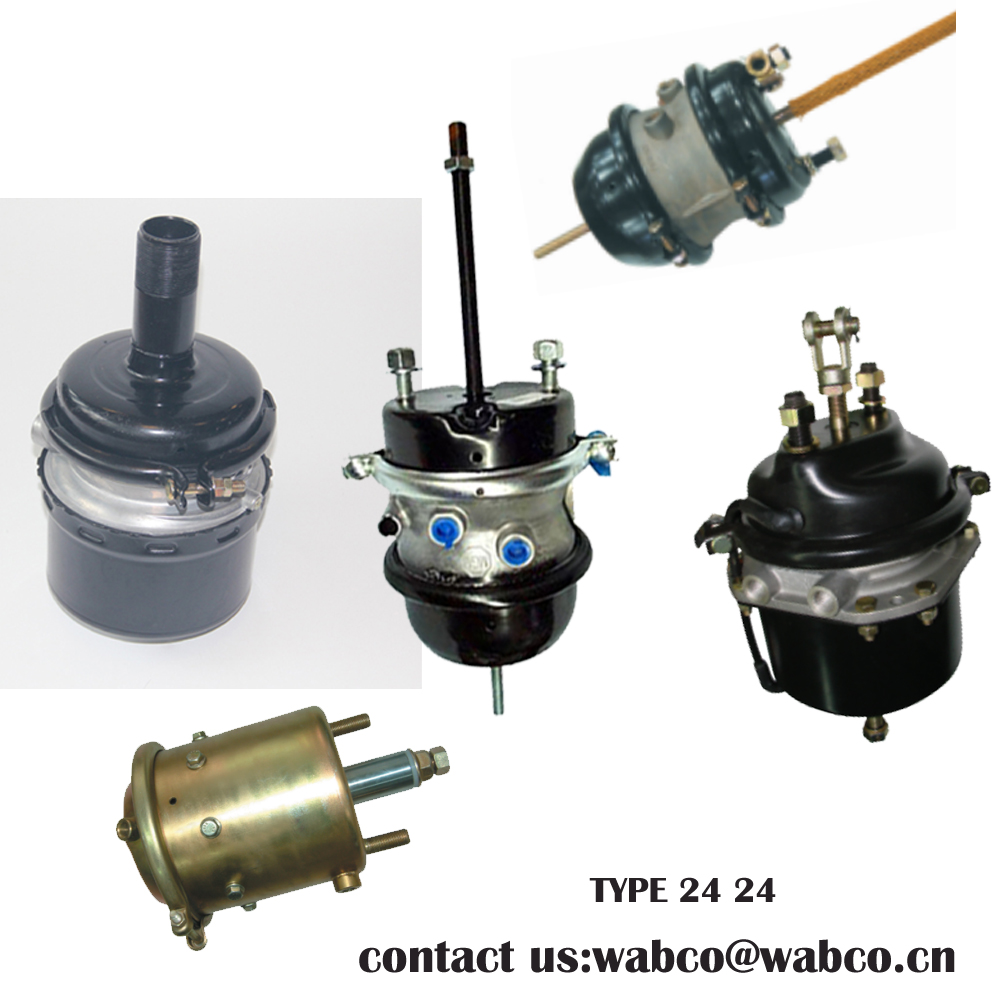 Extended life for brake actuator due to highly reliable park brake module
Extremely compact brake actuator design supported by barrel-shaped power spring
Highest inner component protection with optional Internal Breathing Valve
Service pressure up to 10 bar / 145 psi
Stroke length up to 75 mm / 3.0 in
Coil clash free power spring
Heavy and medium duty trucks
Trailers
Off-Highway
Type 24/30 Air Brake Chamber images: