Product Description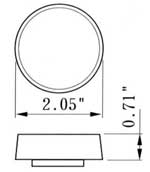 Manufacturer: Pro LED
Part Number: 200RCHH
Voltage: 12-volts DC
Lens Color: Red
LED Color: Red
Lens Pattern: Circles
No. of LEDs: 10
Lens Material: Polycarbonate
Housing Material: Polycarbonate
Plug Type: None (Two-wire sealed pigtail)
Mount Type: Grommet
Hard wired lights don't need an additional harness to plug into your vehicle. There is a two wire pigtail coming out of the back of the light. This will allow you to use a couple of heat-shrink butt connectors and eliminate the risk of corrosion.