Product Description
Hoppy tow vehicle wiring kit
Add a 4-way flat wire harness to your GM truck without cutting wires
Includes dust cover, wire ties, ground screw, and grease packet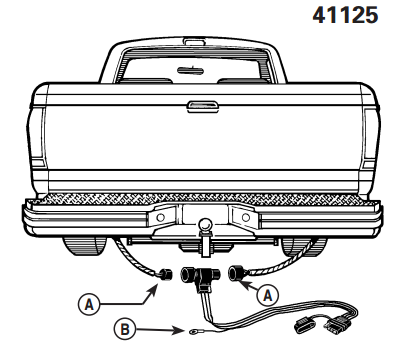 1. Locate vehicle taillight wiring harness behind the rear bumper (A) or inside driver's side frame channel. This harness should have the same connector ends as the Hopkins® T-connector.
2. Disconnect the vehicle taillight wiring harness being careful not to break the locking tabs.
3. Apply a small amount of grease to all electrical connections to help prevent corrosion.
4. Plug Hopkins® T-connector into the male and female harness plugs. Be sure the connectors are fully inserted with locking tabs in place.
5. Grease the terminals on the Hopkins® wire harness NOTE: If your application came with a separate 4-flat extension, plug the extension into the T-Connector.
6. Clean dirt and rust proofing from area and ground the white wire to the vehicle frame with the screw provided.
7. Plug completed wire harness into the trailer connector.
8. Check the lighting system for proper operation.
9. Secure excess wire to vehicle with cable tie provided.
10.To ensure correct installation, test all functions with the engine running. TIPS: Grease applied to the trailer wiring terminals on a regular basis will help prevent corrosion. A heavy duty flasher may be required to eliminate rapid flashing. Always unplug boat trailer connector before backing trailer into the water.
This kit will fit the vehicles listed below
Chevy, GMC, Cadillac

Pickups (Full-Size) 1988-1998
Old Body Style Pickups 1999-2000
Blazer 1992-1994
Jimmy 1992-1994
Yukon 1995-1999
Tahoe 1995-1999
Suburban 1992-1999
Escalade 1999
Denali 1999-2000