Product Description
Hoppy tow vehicle wiring kit
Add a 4-way flat wire harness to your Ford Windstar without cutting wires
Uses a negative input short-proof power converter for vehicle electronic protection
Protects tow vehicle and itself from wiring shorts. Self-resetting
Power lead wire ran directly from the battery for isolation and brighter trailer taillights
Includes power lead wire, fuse assembly, dust cover, bag of ny-ties, splice connectors, ground screw, and grease packet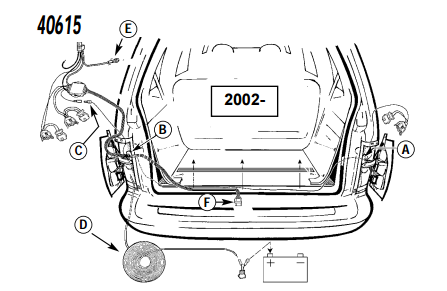 1. Remove driver and passenger tail lamp assemblies to expose the factory wiring harnesses. These harnesses should have the same connector ends as the Hoppy® T-connector and will be connected directly to the lamp assembly.
2. Disconnect vehicle taillight wiring harnesses. Connectors will disconnect by lifting up on locking tabs and pulling apart.
3. Apply a small amount of grease to all electrical connections to help prevent corrosion. FORD Windstar 1999-01 A. Route Hoppy® green wire T-connector up from under vehicle bumper and plug into the male and female harness connectors on the passenger side. Be sure the connectors are fully inserted with locking tabs in place. B. Route yellow wire Hoppy® connector along bumper to the vehicle driver's side and plug into the male and female tail lamp harness plugs. FORD Windstar 2002- A. Pull out the grommet behind passenger's side taillight (A). B. Route green wire through grommet by cutting a small X in the grommet. Then route the green wire through the hole the grommet came out of. Reach behind passenger's side wall and find hole that green wire can come through into the cargo area. C. Run green wire along threshold and behind the driver's side wall. Route through grommet similiar to the one on the passenger's side (B). D. Place rest of kit (including converter) in compartment below the driver's side taillight. E. Plug green wire into the green wire coming out of the converter (C).
4. This converter is a low side switching power converter and requires the red lead wire to be routed to the positive terminal on the battery. Be sure to avoid the muffler, gas tank, tail pipe and drive train (D).
5. Ground the white wire (E) to a clean surface on the vehicle frame using a self tapping screw or use an existing bolt. 6. Route 4-way flat to the center of vehicle and secure excess wires with cable ties (F).
7. Plug completed wire harness into the trailer connector. 8. Test all functions with engine running to ensure proper operation. TIPS: Grease applied to the trailer wiring terminals on a regular basis will help prevent corrosion. Unplug trailer connection before backing into water. Converter maximum load – 8 amps. per function.
This kit will fit the vehicles listed below
Ford

Ford Windstar 1999-Dec. 2002