Product Description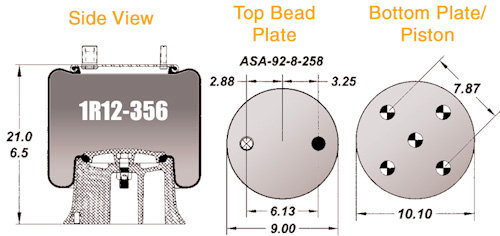 Firestone offers a complete line of Airide springs, with replacement springs available for virtually every air suspension system on the market today.
To be sure you choose the correct replacement air bag, we offer tips on identifying an air spring as well as a page illustrating the components of an air spring. Use them as a guide but feel free to give us a call to help you identify your spring.
A Goodyear sleeve air spring will employ a flexible member without an internally molded bead. The flexmember is attached to the end of the retainers by pinching the material between the ends and the exterior crimp rings which are then adjusted to the proper diameter. There are many applications for Goodyear sleeve style airbag springs. The most common uses are ride springs for passenger cars and truck, isolators and springs for truck cab suspensions and seat springs, as well as many commonly seen industrial applications. 1R12-356 Goodyear Super-Cushion ® Air Spring will give your truck, trailer, or bus a long lasting durability and productivity to the air suspension with years of maintenance free service.
Features and Benefits
Require little to no maintenance
Pressure tested for quality assurance
Increase towing and hauling capabilities
Replace worn out oem air bags
Increase life of other suspension components
NO maintenance required – these air bags are true workhorses and do not require any upkeep after the initial installation
Direct replacement from OEM air springs – no additional components required
Great for extending the life of your suspension as a whole – torque air springs are the most conveinent and reliable solution
Top Plate Hole/Stud: 2
Bottom Plate Hole/Stud: 5
Top Plate Diameter: 9
Bottom Plate Diameter: 10.1
Collapsed Height: 6.5
Flexmember: 566-24-3-038
Piston: 566-20-7-080
Piston Type: C
Goodyear Trimmed: 1R12356Goodyear Bellows Number: 566-243-038
Goodyear Part Number: 1R12-356
Firestone Bellows Number: 1T15M-6
Firestone Part Number: W01-358-9194
Replaces: Peterbilt 03-05107,Triangle Spring: 8352,Firestone: 9194,Conti Tech: 64297,Neway: 57009194,Peterbilt: 03-05107,Batco: 10-99194,Conti Tech: 910-16P352,UCF/Impex: AB-1R12-356,Taurus: AS506-9194,Dallas Spring: AS9194,Midland/Haldex: CS112356,Euclid/Meritor Aftermarket: E-FS9194,Euclid/Meritor Aftermarket: FS9194,Hendrickson Trailer: S-13163
Cross References: 0305107, 1R12356, 8352, 03-05107, AS506-9194, AS-0101, 64297, 9 10-16 P 352, 910-16P352, 91016P352, W01-358-9194, W013589194
A cross reference listing means that this air bag may be a suitable replacement for the part numbers listed. Please double check the dimensions and location of mounting holes and stud to be sure the air bag will work in your application.