What is a parabolic spring?
Basically a Parabolic Spring is a spring that consists of two or more leaves. The leaves touch only in the center, where they are fixed to the axle and at the outer ends, where they are fixed to the vehicle. In between those two points the leaves do not touch each other as they do with conventional leaf springs.
Each leaf represents a complete spring in it's self and will act as such. To enable this the leaf is tapered, from the center (thick) to the outer ends (thin). This tapering is parabolic, it means that every centimeter (or inch) the thickness of the leaf decreases in an amount that relates to the square function of it's length.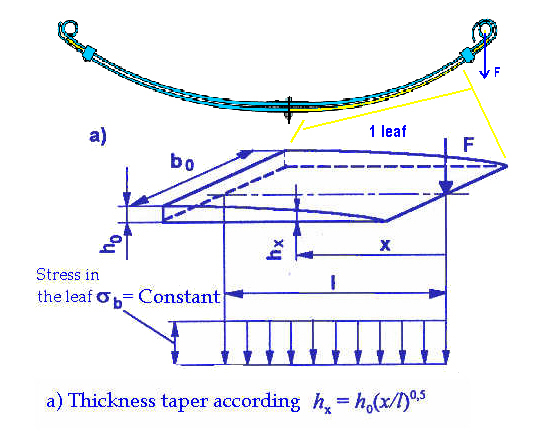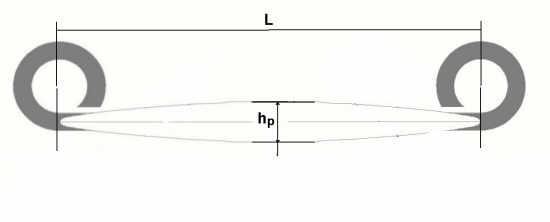 Above: Tapering in an "ideal" mono leaf spring. You can see that one leaf has a similar shape as a multi-leaf spring.
Below: You can see the tapering in the leaves of the spring. The leaves taper from the center till the end (eye) and are separated by distance blocs to prevent contact.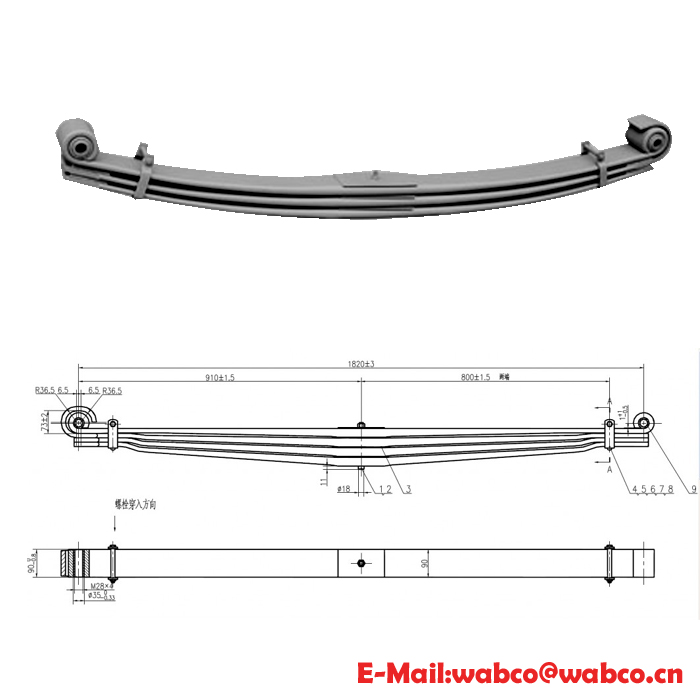 This may sound complicated but in fact it is very simple. Every single leaf will have, more or less, the shape of a
complete multi leaf spring and thus it's capable to cope with the same forces. This means that the ideal parabolic spring could have only one leaf, however, this type of "mono leaf" spring will have very limited articulation/weight ratio due to high internal stresses so a 2 or 3 leaf parabolic spring can divide the stresses more evenly across the
other leaves and thus more axle movement is possible. That is why we designed 2 and 3 leaf springs. An other reason to increase the number of leaves on a parabolic spring is to increase the rate (load capacity). Because every leaf is one spring we can ad or take out leaves without compromising the strength of the leaf it self. So for example we have a 3 leaf rear spring and we ad one similar leaf the rate will go up for about 30% which means that the load capacity increases by +/- 30% (depending on the shackle effect)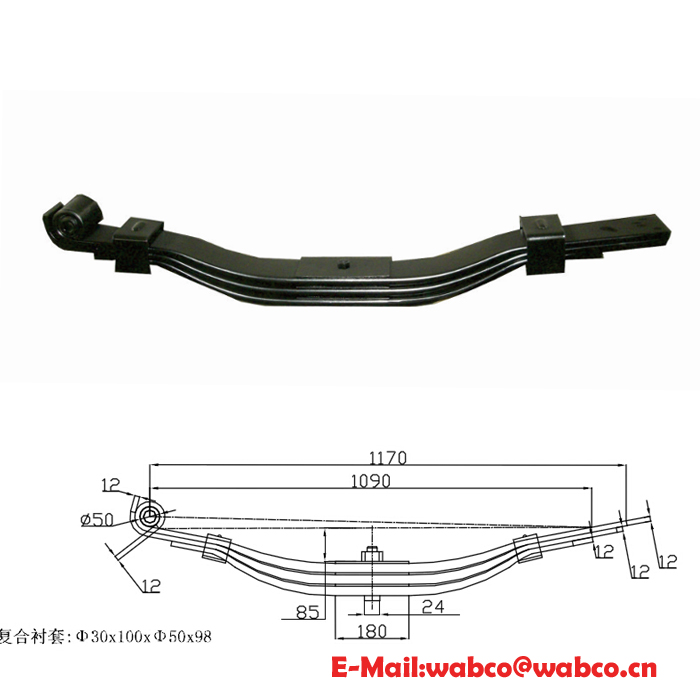 Makers, manufacturers and sellers of Parabolic springs and suspension systems
Xiamen Wabco Leaf Spring Factory is a professional leaf spring manufacturer in China,which is founded more than 15 years.
Our company is incorporated into a combination of design, production and sales.Currently employs more than 300 peoples,with a total area of 50,000 square meters.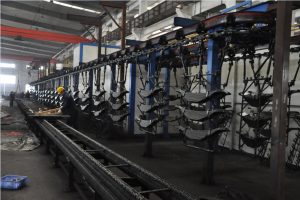 There are 6 production lines in our factory.The yearly turnout is over 60,000tons.We are successfully certified with TS16949 and ISO9001/2010 quality control system.
We own accurate production equip ment, testing equipment and advanced production technology.
And we have a strong production management team and Technical Team which have accquired a number of national patents.

We strictly regulate product testing process to ensure customers receive qualified products.And we adhere to the people-oriented, quality first, continuous improvement; We developed a full range of leaf springs with different sizes.The main products are Conventional Multi-Leaf Spring, Parabolic Leaf Spring and Z-type leaf spring which are used for heavy duty Trucks (Mercedes Benz, Man, Volvo,Howo, Kamaz) and light duty trucks,trailers, buses, boat trailers and agricultural equipments.
Our high quality leaf springs have been stably exporting to Europe,North American,South America, Asia,Oceania,Africa,and Middle East in the worldwide.
And our Parabolic Leaf Springs have already won good reputation in the market.
Advantages of Parabolic Springs
Parabolic springs are leaf springs that consists of two or more leaves that only make contact in the center and at the outer ends. Each leaf in a parabolic springs is tapered to be thicker at the center and slowly thins out towards the ends. This is different from the conventional leaf springs wherein the leaves are in contact with each other and in which each leaf has uniform thickness from end to end.
parabolic springs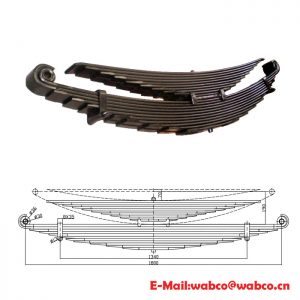 Compared to conventional leaf springs, parabolic springs are able to resist more compression and have better flexibility. The flexibility results to better ride quality. The vertical speed movements are also easier to adjust with these types of springs. Due to the structure and components involved, parabolic springs are also lighter. This is an important factor when the priority is for maximum performance.
Another great application for parabolic springs is for off-road vehicles in which the flexibility of the spring is more effective in keeping the wheels always in contact with the ground compared to stiffer conventional springs.
The only downside to parabolic springs is that it has lesser capability when it comes to carry heavy loads. As such, these types of springs are used for when comfort is more preferred such as the cases with passenger buses. Only the coil springs are offer more comfortable than parabolic springs. However, coil springs which are often attached only to a single point of the chassis have the disadvantage when it comes to load distribution.
There are also newer developments with parabolic springs with brings it close to coil springs when it comes to comfort
Do Parabolic Springs require any maintenance?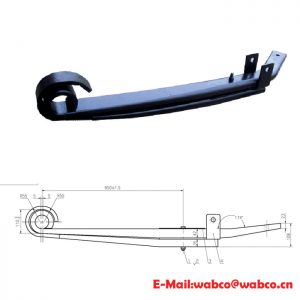 A little light oil between the leaves will deter corrosion and prevent squeaks. The rubber bushings should be checked
occasionally. It is also very important to check that the 'U' bolts are torqued up to 70 ft lb. The 'U' bolt torque should be checked frequently under difficult conditions. You should also check that the shackles are tight by loosening the lock nuts and tightening up the shackle bolts. The condition of the axle buffers and check straps should also be checked occasionally.
I notice you use a larger rubber bushing in your spring eyes. Why is that?
Parabolic springs flex more than conventional springs and having an eye 18% larger allows us to use a bushing which can withstand flexure much better than a conventional one. The larger bushing also reduces stresses in the spring eye of the main leaf and insulates the Land Rover better from transmitted road noise.
 What are some of the features of the leaf springs that you offer?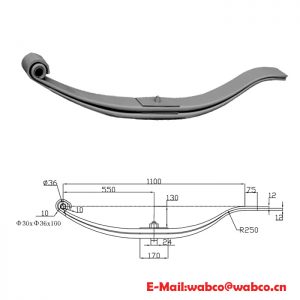 All leaf springs are OEM replacement parts that have been powder coated to protect from rust and other weather elements. These leaf springs are made to fit and additional hardware is readily available throughout the rest of our site. Feel free to check out our u-bolts and eye bolts. To further help you in deciding the right leaf spring for your vehicle, we have Leaf Springs for Truck, SUV, Van reviews and ratings, with a average rating of 5 out of 5 based on 8 ratings throughout.
 Where are your leaf spring replacements manufactured?
A: We we deal with a wide range of manufacturers both overseas as well as local. However, all of our springs are designed with the same specifications and materials as the vehicle's manufacturer. All leaf springs that we offer are put through extensive quality testing before we stock them in our warehouses to ensure you receive springs that are the same quality as the OEM leaf springs.
Production Process: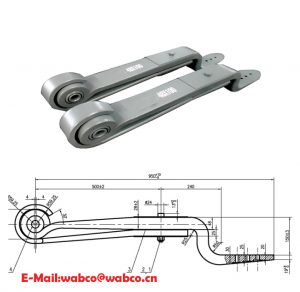 Cutting-Punching-Rolling-Quenching -Tempering-Shot Blasting – Assembling – Pre-Compaction – Painting –Testing-Packing
Function:
Leaf Spring connect the axle to the vehicles body,and it plays a role of Buffering, shock absorption and
power transmission.
Material Info.
Description
China
USA
Japan
German
England
France
ISO
GB
AST
JIS
DIN、DINEN
BS、BSEN
NF、NFEN
ISO 630
Shop Sign
Shop Sign
Shop Sign
Shop Sign
Shop Sign
Shop Sign
–
Spring Steel
85
1084
SUP3
CK85
–
FMR86
TypeDC
55Si2Mn
9260
SUP6
55Si7
251H60
56SC7
56SiCr7
60Si2Mn
H92600
SUP6
60SiCr7
25H60
61SiCr7
61SiCr7
55CrMA
H51550
SUP9
55Cr3
525A58
55Cr3
55Cr3
50CrVA
H51500
SUP10
50CrV4
735A51
50CrV4
51CrV4
Note: We could design and produce any type leaf springs as per customers' drawings and samples.

Popular Parabolic Leaf Springs: