Product Description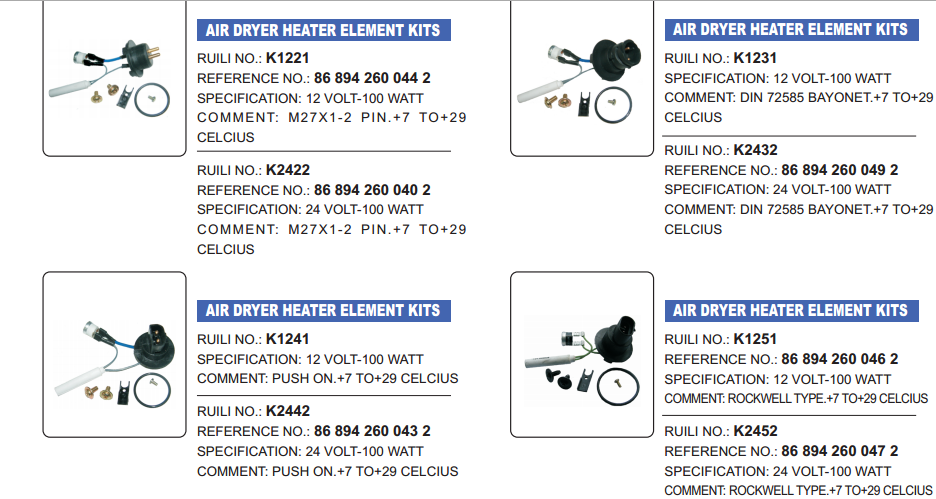 Part Number: R950015
Direct replacement for the Meritor R950015 heater kitAir dryer heater/thermostat maintenance kit
Voltage: 12-Volts DC/24-Volts DC
Includes everything you need to replace the heater/thermostat in Meritor WABCO System Saver 1200 air dryers
Routine Maintenance
Weekly
Ensure dryer purges when compressor unloads
Weekly, or as recommended by vehicle manufacturer
Drain purge tank (dedicated purge tank dryers)
Weekly, or as recommended by vehicle manufacturer
Check for moisture in the system tanks by opening the drain cock
Every 2-3 years or more often, depending on usage

Whenever the compressor is rebuilt

Replace the desiccant cartridge
Maintenance Tips
Dedicated Purge Tank

The best location for dedicated purge tanks is above the air dryer

Extreme Heat

Check to be sure that the compressor discharge line is long enough to allow the compressed air temperature to drop below 175°F before it reaches the air dryer.

Extreme Cold

Make sure that the air dryer heater is functioning by doing a heater resistance test. (See the Maintenance Manual link above)
Check the line from the governor to the air dryer to be sure that its free of oil and water.