Product Description
Manufacturer: Bendix
Part Number: 286370X
Condition: Remanufactured
Bendix reman valves have the same warranty as new valves
Service port location = 90° from mounting flange (As shown in picture)
Includes exhaust cover
Crack Pressure: 3 psi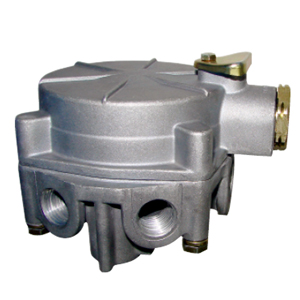 R-8 Relay valves are primarily used on long wheelbase vehicles to apply and release rear axle(s) service or parking brakes. They are air operated, graduating control valves of high capacity and fast response. Upon signal pressure from the service brake valve, they graduate, hold or release air pressure from the chambers to which they are connected. They are generally mounted close to the chambers they serve. Relay valves are available in both remote and reservoir mount designs and feature inlet/exhaust valve cartridge replacement without line removal.
The R-8 relay valve incorporates an integral double check valve with a balance port connection which provides both an anti-compounding or quick exhaust feature depending upon vehicle application. The anti-compound feature is used when these valves are used to control spring actuated parking features.
Cross References: 286370, 286370R, 286371, 286371X, 287277, 287277X, 287260, RKN28071, 22A2696, 825735, 10130548, 9069725, KN28071, 763353, AE763353, 936750, 1676729C1, 666969C91, 90001269, 90002279, S9174, 110412, 110416, 24693, 36U94D1, 4017724, 034024, 1092945, 1690499, 79105006
A cross reference listing means that this valve is a suitable replacement for the part numbers listed. Some changes in air line plumbing may be required.
This valve can be used to replace part numbers 287260 and 288369 by turning the cover 90°. This does NOT affect your warranty.This valve comes with a cover over the anti-compounding balance port. Simply remove the cover screw to access this port, if needed.