Product Description
Sturdy, stylish aluminum trailer wheel is lightweight, provides superior corrosion protection and meets Department of Transportation standards.
Features:
Durable, corrosion-resistant aluminum construction
Hi-Spec series 03 design is unique and appealing
Front and back of wheel are clear coated
Improved clamp force (ICF) technology helps to keep wheel securely in place

Bulletproof joint created between wheel and hub when properly installed
No need to retorque after initial installation

Attractive modular pattern
High-quality wheel meets DOT specifications
Valve stem is included
Specs:
Rim dimensions: 16″ diameter x 7″ wide
Pilot hole diameter: 4.90″
Bolt pattern: 8 on 6-1/2″
Wheel bolt size: 1/2″-20 or 9/16″-18
Offset: – 8mm

Mounting surface of wheel sits inside rim centerline

Capacity: 3,960 lbs
Determining the Bolt Pattern
The first number in the bolt pattern is the number of bolt holes. The second number denotes the diameter, in inches, of the circle on which the bolt holes sit.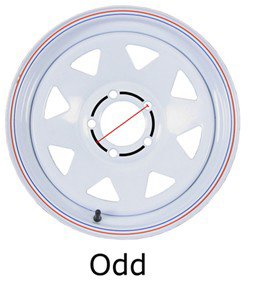 To determine the bolt-circle diameter on wheels with an odd number of bolt holes, measure from the center of any bolt hole to the point halfway between the two bolt holes directly across from the first. (Example: "5 on 4-1/2″ means 5 bolt holes with 4-1/2" measured to a point halfway between the opposite bolt holes.)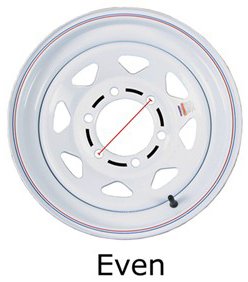 On wheels with an even number of bolt holes, measure from the center of one bolt hole to the center of the hole directly across from it. (Example: "8 on 6-1/2″ means 8 bolt holes with 6-1/2" from the center of one hole to the center of another on the opposite side.)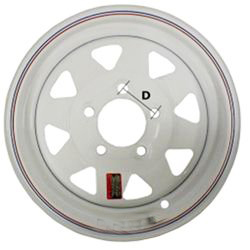 Measuring the distance from the center of one bolt hole on the wheel to the center of a bolt hole right next to it can also help to determine the bolt pattern.
If D = 2-5/8″, then the bolt pattern is 5 on 4-1/2″
If D = 2-3/4″, then the bolt pattern is 5 on 4-3/4″
If D = 3″, then the bolt pattern is 5 on 5″
If D = 3-1/4″, then the bolt pattern is 5 on 5-1/2″