Product Description
This is the Meritor WABCO 4324210090 air dryer. That number is on the metal tag on the body of this dryer.
Meritor WABCO System Saver 1200 Installation Manual (.pdf)
Meritor WABCO System Saver 1200 Maintenance Manual (.pdf)
Special Notes

none

Product Description

Manufacturer: Meritor WABCO
Part Number: R955300
Air Dryer Model: System Saver 1200P
Condition: New
For use in standard air -brake applications on truck, tractors, and buses
Uses an external purge tank for desiccant regeneration
Spin-on desiccant cartridge
ID Tag Number: 432 421 009 0
Operating Temperature Range: -40°F to +175°F (-40°C, 80°C)
100 watt / 12 volt DC heater element
Thermostat Range: On-Temp – 45°F, Off-Temp – 86°F (7°C, 30°C)
Discharge Line Dia: 1/2″ ID minimum
Discharge Line Length: Sufficient length to keep temperature at dryer inlet below 175°F (80°C)
Max Pressure: 140 psi
Min Governor Cut-Out Pressure: 115 psi
Height: 11.2″ (284mm)
Width: 8.2″ (208mm)
Projection From Frame: 5.7″ (145mm)
Desiccant Volume: 1200 cc
The System Saver 1200 Series single-cartridge air dryer dries compressed air during the loaded cycle and regenerates (dries) the desiccant bed during the regeneration phase, which occurs when the compressor unloads.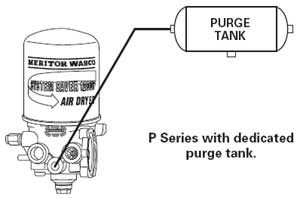 Note that there is no system regeneration valve used on the "P" series air dryer and port 22 is drilled and tapped for connection to the purge tank.
Cross References: S432 413 028 0, S4324130280, TDAR955300, ATIR955300, 4324210090, S432 413 024 0, S4324130240
A cross reference listing means that this air dryer is a suitable replacement for the part numbers listed. Some changes in plumbing and/or installation may be required.